Background
The Cochrane Register of Studies Database (CRS-D) is the culmination of 20 years of Cochrane research and is continually being added to as part of Cochrane's mission to provide the best healthcare evidence-base in the world.
This data store links together data that were once fragmented. Diverse records are now in one place, links between studies and other data are now formalised, which means that everything known about a study can be retrieved with a simple query to the data store.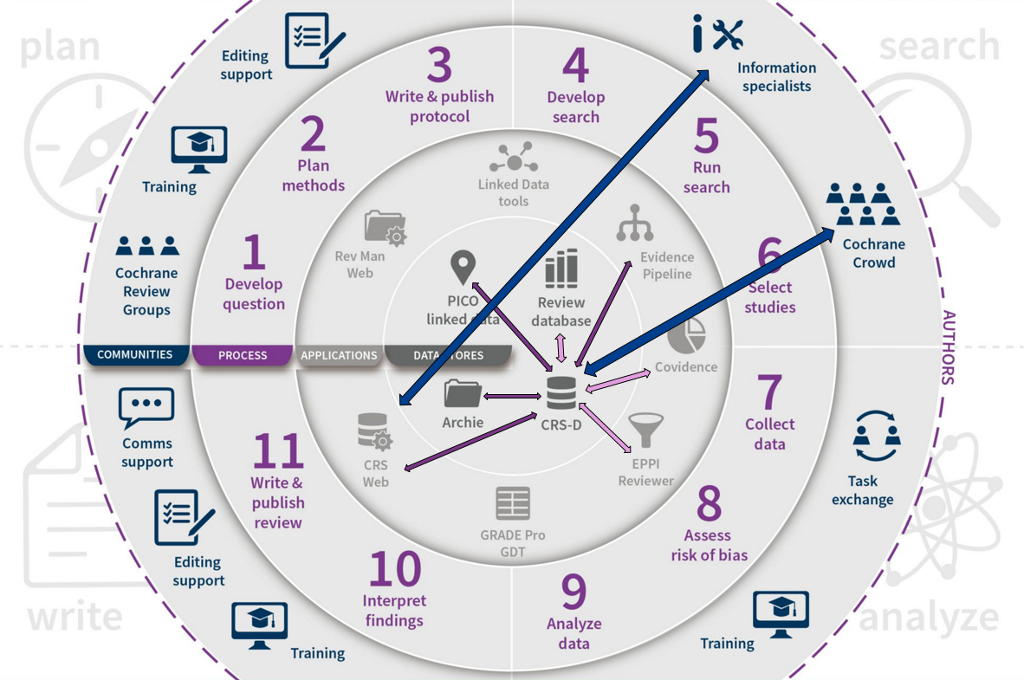 Source: Cochrane Collaboration
Overall objectives of CRS-D
To maximise the opportunities and capitalise on the work done by the whole Cochrane organisation, making the retrieval of records and links between data more accessible.
To provide enhanced support in the production and maintenance of quality Cochrane reviews, enhancing the content of all collected data regardless of its form and location.
To link everything together.
The role of Metaxis
To design, develop and build the entire database structure and the APIs providing access to links between all records, and to run and maintain the solution that sits at the heart of the Cochrane information ecosystem.
Metaxis developed sophisticated probabilistic matching techniques to underpin the intelligent design of CRS-D. This enables CRS-D to collate all the reviews that a study appears in, plus all other references to that study regardless of which review they appear in or where they are located across the ecosystem.
All records are linked together – references to studies, studies to reviews and to other parts of the ecosystem.
This creates an integrated and intuitive resource for authors and editorial teams which increases the efficiency of the production process and vastly improves access to study data. CRS-D is designed to manage the building blocks of reviews – collating all the records and making them available in one place reduces duplication of effort enormously.
The whole ethos of Cochrane is collaboration. The CRS-D, by formalising the links between records is enabling sharing across the whole ecosystem and potentially extending the reach, influence and use of Cochrane evidence globally.
Key features:
Bespoke design and development of database and APIs – a unifying solution
Sophisticated probabilistic matching – intelligent design to enhance data links
Fully integrated with the rest of the Cochrane information ecosystem
Key benefits:
Fast and improved access to data and production process
Duplication of effort in finding relevant data and information significantly reduced
Enriched content in one place
Extended use of Cochrane evidence